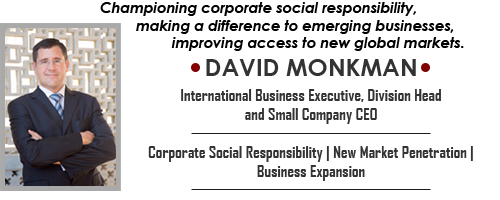 David is a highly entrepreneurial, results-driven senior executive with 12-plus years' experience as CEO or senior leader, designing and implementing product / program developments and market expansion strategies for high-visibility multinational corporations, semi-government, and government sponsors. Used to operating in very fast-paced, often chaotic situations.
Core Competencies:
Organizational Design
Strategic Planning
Multi-Site Operations
Revenue & Profit Growth



Team Building & Leadership
End-to-End Process Development
Sales & Marketing Management
Global Market Development

Stakeholder Management
Business Partnering
Project & Program Management
Financial Management
David has lived in seven countries, and conducted business in 25, on five continents, enjoying the challenge of opening up new territories, introducing new products, and creating the vision. Build operational infrastructures that systematize processes and create corporate accountability.
He has strong skills in product conceptualization & development, project consultancy & management, CSR & sustainability, B2B sales & marketing, finance & capital markets, and customer relationship management (C-level, board members, partners, etc.).
David is an exceptional relationship manager with the ability to quickly win stakeholder trust. Recognized as a natural CEO and leadership coach with high EQ, building empowered and talented workforces in cross cultural and cross functional environments with a customer-centric philosophy.
MORE >>